[vc_row][vc_column][vc_column_text]
Raymond Herbert Berger (1929-2017) was a metal sculpture artist that resided and worked out of Baltimore, Maryland. Raymond began his career as an artist after being unexpectedly laid off from his job as an engineer at Westinghouse in the early 1970s.
Raymond was heavily influenced by his mother, Shirley Berger, who was a an affluent oil painter and instructor in Brooklyn, New York. Raymond's first option to support his family was through art. Raymond's earliest designs were typically of a brutalistic style but later his work evolved into more detailed and intricate wall designs.
Raymond Berger was well known for his quality workmanship and his ability to produce such designs for sale at fine art shows and make a comfortable living at it.
Raymond's wife Elizabeth was another huge inspiration in his life often helping him travel to, set up and sell his designs. She also was instrumental in designing unique art works and selling them at art shows along side my father.
Raymond mostly sold his work directly to his customers at art shows up and down the east coast and as far west as Colorado. He always said that customers need to see his work up close to truly appreciate the details and fine craftsmanship. This is still true to a degree however in today's age of the internet many people from around the world are purchasing fine metal art from the Metal Sculpture Studio especially those individuals that appreciate quality.
Raymond Berger is survived by his son Gary Berger, who worked along side his father for many decades and understands the importance of combining creativity, style and quality workmanship into designing and fabricating metal art.
[/vc_column_text][vc_raw_html]JTVCc21hcnRzbGlkZXIzJTIwc2xpZGVyJTNEMiU1RA==[/vc_raw_html][vc_column_text]The designs seen above are a small sample of Raymond Berger's earliest works from the 70's and are most likely originals. Some of these pieces (e.g. the black metal table made of tubes) were kept by Raymond Berger's up until his death in 2017.
In the 1980's Raymond's style evolved. He moved away from making standing wall hanging portraits (e.g. tennis scenes, buildings etc.) and standing sculptures made in steel. Raymond focused on making wall designs like the Gatsby Girl, Copper and Brass Leaves, Dogwood Tree and nail designs like the City by Night and standing tables.
In the 1990's Raymond's style incorporated more reflective metal designs made of polished copper, polished brass and chrome. His most popular piece was the Kaleidoscope that he professed to sell more than one million dollars worth at his art shows. New designs like the Odyssey, The Divy Tree and The Kali Tree appeared and were hot sellers.
In the early 2000's Raymond introduced his garden sculpture designs in an attempt to appeal to people that wanted his work at a more affordable price. The brass angel was his first garden design sketched by his wife Elizabeth and refined by his son Gary. The Brass Angel was a very hot item especially around the Christmas Holliday. Long lines of people would wait for hours just to buy his angles. My father and his wife would stand all day long selling Angles and have cash falling out of their pockets. For many years my father's kitchen table was covered in mountains of cash all from garden sculpture.[/vc_column_text][/vc_column][vc_column][/vc_column][/vc_row][vc_row][vc_column][vc_column_text]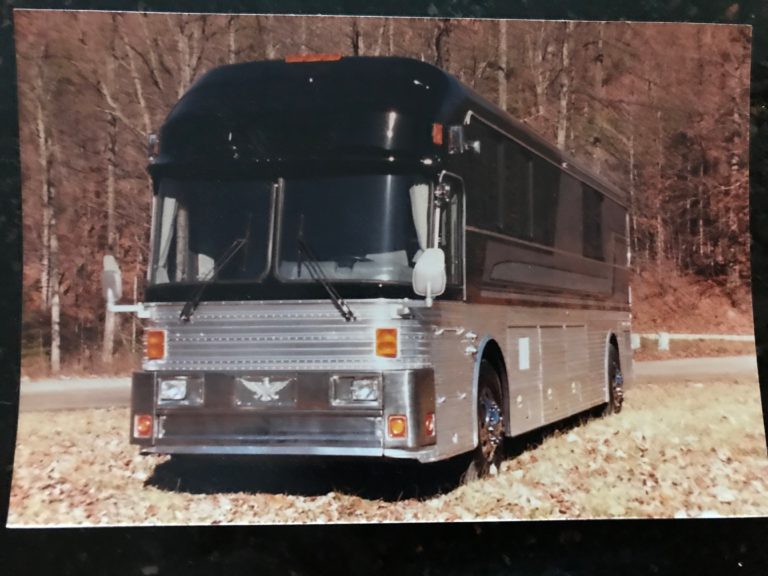 Raymond Berger mainly sold his metal artwork to people at juried art shows throughout the United States. He traveled in a huge custom designed Eagle Bus with his dog Nelson. Raymond's booth was always crowded with people especially children that wanted to pet his amazing dog Nelson. Nelson was a Japanese Tosa Inu. Though Nelson was a very intimidating looking animal, he was very docile and lovable. Nelson was my father's  pride and joy and after Nelson's death in 2015 my father's health started to decline.
Raymond Berger passed away on May 1st 2017 at the age of 88 due to health complications. He was of clear mind till the end and had no regrets in life.
[/vc_column_text][/vc_column][/vc_row][vc_row][vc_column][vc_separator border_width="3″][vc_column_text]
Raymond Berger was well known for having his Gigantic Japanese Tosa, Nelson, with him at art shows. People would crowd his display sometimes just to have a glimpse of this amazing animal. Nelson looked like a killer but he was actually a gentle and docile dog.
[/vc_column_text][/vc_column][/vc_row][vc_row][vc_column][vc_separator border_width="3″][vc_column_text]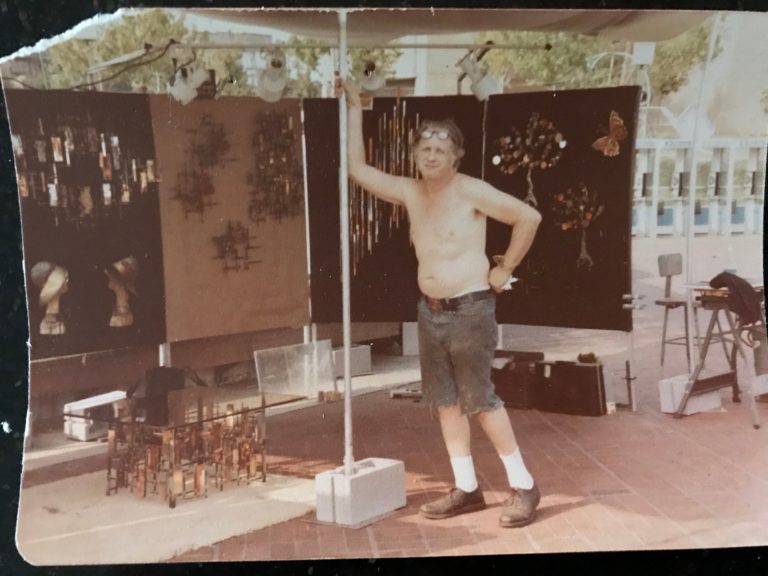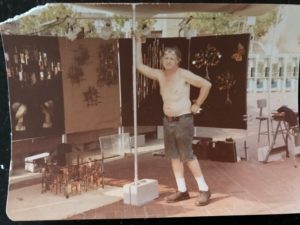 My father mainly sold his art work at fine art shows throughout the United States between 1972-2014. For decades he attended juried fine art shows throughout the United States. He frequented states like Connecticut, Ohio,  Pennsylvania, Florida, Maryland, Michigan & New York. Sometimes my father would do craft shows and art fairs in the streets like the one in this photo. This photo was likely taken in the early to mid 1980s.
Unfortunately my father is seen posing in this photo without his shirt, but rest assured he dressed better, probably not much better, once the show opened up to the customers.
Setting up and taking the display down was a very time consuming operation. Set up could take as much as 4 hours and breakdown about 2. My father's display booth was a beauty in its own regard and was unrivaled among his fellow artists.
There are some interesting pieces shown in this photo like the "City by Night" (on the far left) that was one of his hallmark sculptures. Long ago my father would sell metal sculpture tables but he decided to discontinue doing that circa 2000.[/vc_column_text][/vc_column][/vc_row][vc_row][vc_column][vc_separator border_width="3″][vc_column_text]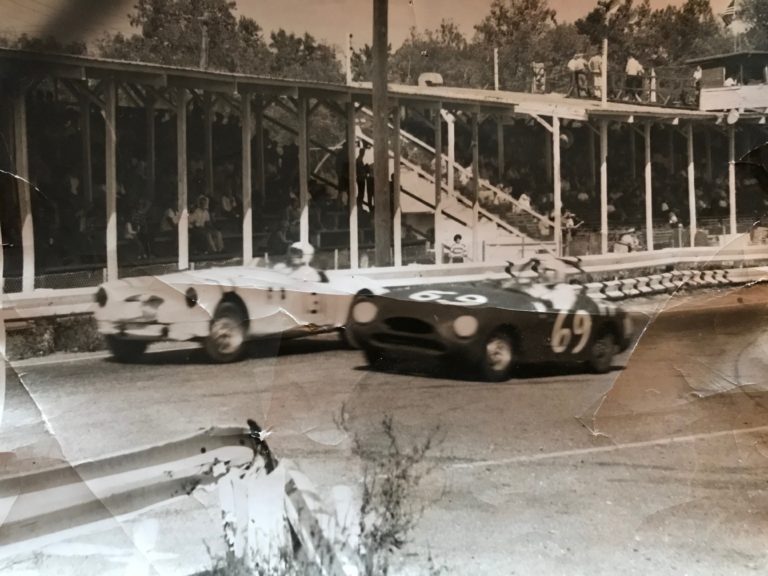 In the 1960s, Raymond Berger had a hobby racing cars. My mother used to call my ace "Ace" and attributed it to his race car driving. My father said he choose to have the number 69 on his car so that when he rolled it upside down people would still recognize the number 69. I remember the day my father sold his race car circa 1972.
[/vc_column_text][/vc_column][/vc_row][vc_row][vc_column][/vc_column][/vc_row]